If you've only just stumbled upon this luxury lingerie brand, let us bring you up to speed on some of the basics.
Dora Larsen is a British lingerie brand that, despite only being around since 2016, has a perfectly defined vision of its aesthetic. There are three things that make one of their lingerie sets instantly recognisable, and eyelash lace and wide elastic waistbands are two of them. But it's their adventurous (and utterly incredible!) colour combinations that are the true signature of the brand's aesthetic. Soothing, amusing, rebellious or uplifting - the magic lies in how the colours are combined. The fourth thing that sets Dora Larsen lingerie apart from many other brands is their uncompromising approach to fit and incredible comfort - it's everyday lingerie, but it's also special.
With that, we had to find out more about the brand that's turning what's sexy on it's head, so we caught up with Georgia to discuss what brought her to create such a recognisable brand and her inspiration behind the new Spring Summer 2020 collections.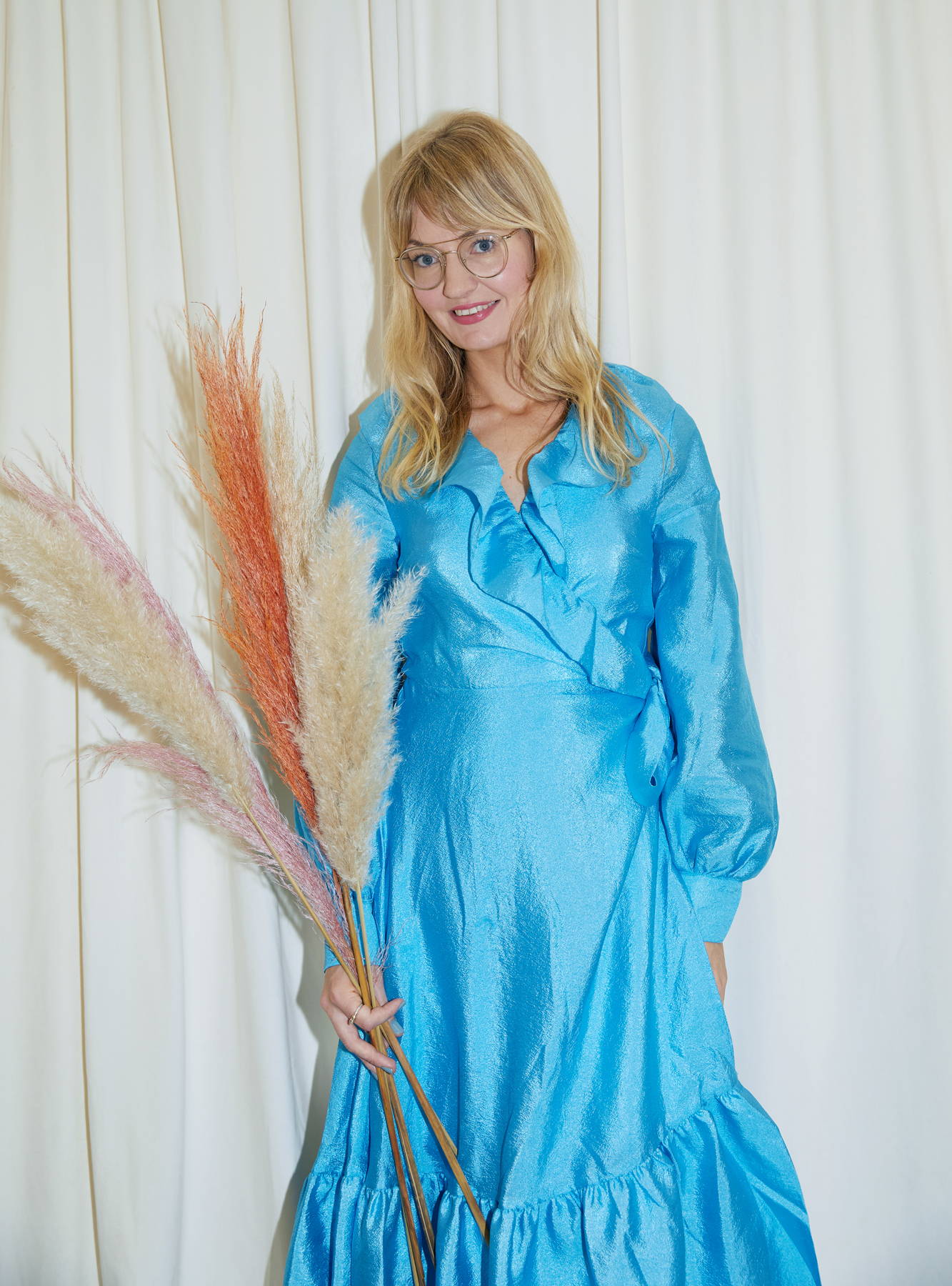 Founder Georgia Larsen looking incredible behind the scenes on a Dora Larsen photoshoot.
©Dora Larsen
In 3 words, can you sum up Dora Larsen for those that are new to your brand?
Colourful, comfortable, exciting
Tell us a little more about Dora Larsen. How did it all begin? Did you always know that you wanted to be a lingerie designer?
Absolutely not ! I was that 10 pack of black knickers from Primark girl, with a 4 year old H&M bra! I always loved fashion though, so managed to get a job in buying at Topshop. I was transferred onto the lingerie department and fell in love with it straight away!

We're intrigued - where did the name Dora come from?
Dora is the name of my first dog, a little bichon Frise

Your designs also all have women's names - are there particular people in your life that you name them after?
Yes, on the whole I've named everything now after an important woman in my life, or a woman I know that inspires me. I'm seriously running out now though, so on a few occasions the names have come from friends cats or a baby names book!

The colour combinations in the Spring Summer 2020 collections are some of our favourites yet. Some are bolder, such as the purple, pink and terracotta of the Ana range, and others have a mellower colour palette, such as the soft pastels of the Marlowe range.
Right image: The Ana Underwire Bra and High Waist Knicker. Left image: The Marlowe Underwire Bra and High Waist Knicker
Why do you think lingerie can make the wearer feel so good? How do you want women to feel when wearing Dora Larsen lingerie?
I think because lingerie is hidden, only you know that you are wearing something beautiful, and there's something empowering in that. You're not relying on the approval of others. That's definitely what Dora Larsen stands for - it's lingerie you ultimately wear for yourself, not for your partner. It's a bonus that your partner likes it too, but it's definitely not the sole reason for wearing it!

What was your inspiration behind your SS20 collection?

I designed this collection a few weeks after having a baby, but I'm actually so pleased with how it has turned out (considering how stressed I was!) I really wanted to bring in colours the customer had never seen before, so that everything felt really fresh and new. I've also added in some new clean mesh styles (with no lace) that I'm really excited about, as I felt we also needed to be offering something cleaner than we do now. Not every girl wants to wear lace every day.

This season includes something completely new for Dora Larsen - pieces that are completely devoid of lace. Founder Georgia calls these 'clean mesh' pieces, perfect for those who prefer their lingerie more minimal.
Image features: The Hanna Underwire Bra and High Waist Knicker.
What has been your favourite moment since setting up Dora Larsen?
There have been so many good moments it's hard to say, but I think probably once my husband had finally left his job in finance and started his first day working for the brand. That's always been my aspiration, that one day we would work for ourselves, together, so it felt like a very rewarding achievement!

What can we look forward to from Dora Larsen over the next year?

New product areas! In particular, swim! To be honest it's hard to know exactly what the next year will bring, but we are growing fast, and we now have a small team working for us, which I feel will help our growth and bring lots of exciting opportunities our way.

On a more light-hearted note, here at Ellen Terrie, we believe that sensual pleasure plays an essential role in our health and wellbeing. What are your favourite ways to get in touch with your sensuality?

I think just connecting with my husband on a really spiritual way, going on long walks together and talking about life/the world/the madness of it all! There's nothing I enjoy more :)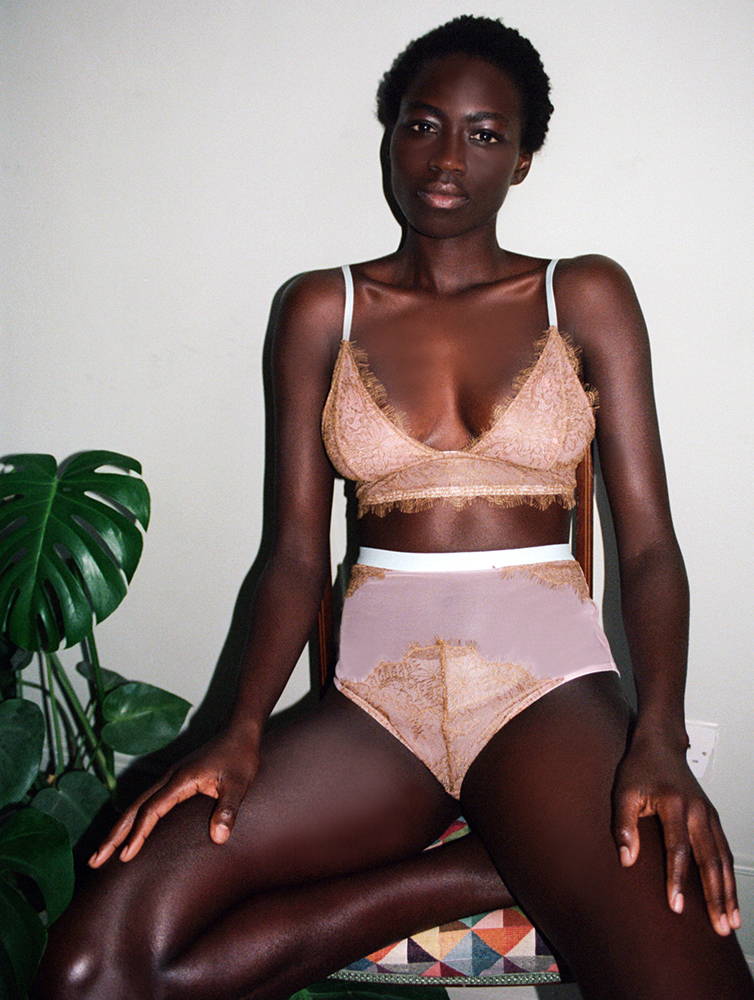 The super feminine combination of khaki eyelash lace, dusky pink mesh and baby blue elasticated straps is just one of the many things we love about Celi.

Image features: The Celi Padded Triangle Bra and High Waist Knicker.
Not only has Georgia successfully created a striking collection of everyday, subtly feminine pieces, she has also created an accessible and friendly brand that celebrates the female form and encourages women to embrace their bodies with bold colour combinations.
FINALLY, a lingerie brand that empowers real women to look AND feel amazing no matter their shape, age and taste!