Bare or bushy?
Wrong question!
There's a million and one ways to wear your hair and Fur works with all of them.
For those of you that aren't already big fans, Fur provide beautiful, natural skin care and hair care for up top, down there, and everywhere in between. They were the first ever brand to create a line of pubic hair and skin care products, AND A-list celebrity Emma Watson uses their signature product, which is how we discovered the body-positive brand, by reading about her beauty routine here.
With that, we feel truly honoured to have had the opportunity to have a chat with the lovely Laura Schubert and Lillian Tung, co-founders of Fur, who are helping to shift the conversation about body hair from something that is often stigmatised to something that we should celebrate.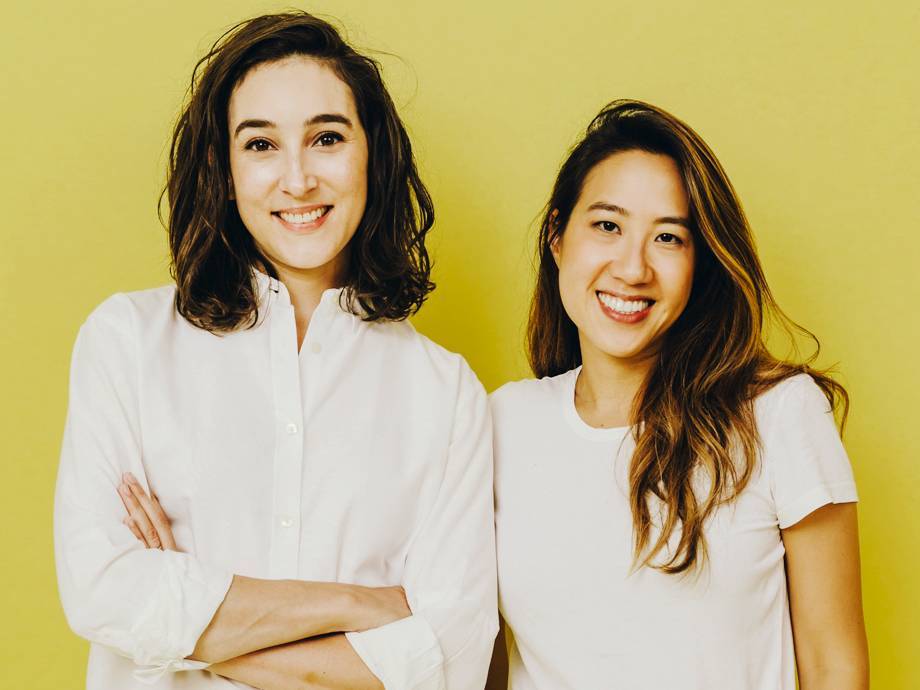 Laura Schubert & Lillian Tung, co-founders of Fur
IN 3 WORDS, CAN YOU SUM UP FUR FOR THOSE THAT ARE NEW TO YOUR BRAND?
L.S. & L.T.: Care for everywhere.
TELL US A LITTLE BIT ABOUT FUR. WHAT IS IT AND HOW DID IT ALL BEGIN?
L.S.: Back in 2014 we were discussing exciting trends in beauty towards natural products and defining your own beauty, and away from prescribed standards. As we talked, we realized available body hair products were not in line with this movement—the ingredients were harsh, the packaging was unsophisticated, and they focused only on removal—hair as a problem. Fur is about a more inclusive definition of beauty, whether you think the bush is back or skin is in. We spent the next two year developing and testing and officially launched in 2016. Today, we're still one of the few totally women-run and women-owned businesses in this space.
DID YOUR OWN PERSONAL RELATIONSHIP WITH PUBIC HAIR, AND BODY HAIR IN GENERAL, CONTRIBUTE TO THE DEVELOPMENT OF FUR?
L.T.: Absolutely as we only create products that we love. Skincare and body care has always been a big focus of mine since college when I had my first internship at a beauty company and has grown from there.
L.S.: I was a gymnast in high school (in fact, Lillian and I were co-captains of the high school team!) so I had to choose how to manage my body hair from a young age, winter or summer. I didn't feel comfortable discussing these choices with anyone. In college I started practicing more regular hair removal basically because magazines told me it was the right thing to do. It wasn't until later that I started to question these choices and actually started talking about them with people, even my husband. I realized that this was a choice no one felt comfortable speaking about, myself included. But when I asked, everyone wanted to talk about their body hair choices. This realization directly led to our mission to destigmatize pubic hair.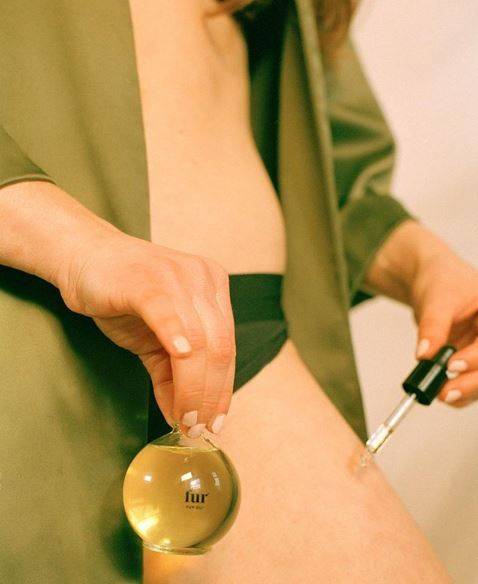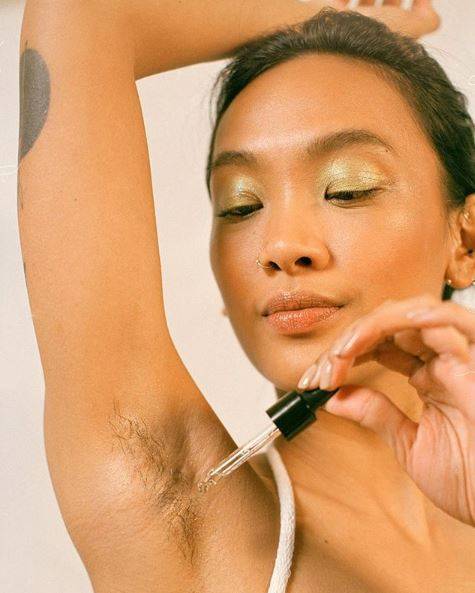 "It was important to us from the
very beginning to create natural, safe products
that yes, I wouldn't hesitate to eat."
WHAT WAS THE PROCESS OF DEVELOPING YOUR PRODUCTS LIKE? WE HEAR YOU ATE EVERY VERSION OF THE PRODUCT - IT THIS TRUE?
L.T.: It was actually the first iteration of Fur Oil that convinced me to quit my job and join Laura to start Fur! When I tried it I realized the oil was an amazing product that delivered more than just softness. And yes, I ate a few iterations—pretty sure Laura ate every single one, good or bad.
L.S.: I did try every iteration of the product - it definitely should not replace salad dressing, but back when we formulated Fur Oil, most of the body care products on the market were very artificial - fragrances, colors, phthalates, etc. It was important to us from the very beginning to create natural, safe products that yes, I wouldn't hesitate to eat.
YOU HAVE BASICALLY CREATED A NEW BEAUTY CATEGORY. HOW DID IT FEEL TO BE THE FIRST AND DID YOU ENCOUNTER ANY CHALLENGES?
L.S.: When we first told people we wanted to create the first line of pubic hair care and skin care, we were hung up on, laughed at, and told it was a terrible idea. Three years later, we're in thousands of locations and are lucky to have a community around us who supports our message and loves our line. We really pride ourselves on having created a space that feels inclusive in large part because we extended the conversation around body hair past just removal, and allowed people to discuss body hair and grooming without judgment. So while the challenges were getting people to take the brand and the category seriously, it's also a great feeling to have created a category that's been built on self-love and body positivity.
"It's a great feeling to have created a
category that's been built on
self-love and body positivity."
HOW DOES IT FEEL TO SEE OTHER BRANDS START TO FOLLOW IN YOUR FOOTSTEPS?
L.S.: A few years into Fur, it's been cool to watch other brands follow in our footsteps—we've always known that being more inclusive and body positive was the only way we wanted to succeed as a company. We have always strived to help open up the dialogue beyond hair removal, e.g., how to soften the hair and skin, how to get rid of ingrowns, and how to treat pubic hair with the same respect as the hair on our heads. Hopefully other brands pushing the same messaging will help take that conversation to the next level, and ease some of the unnecessary stigma around body hair.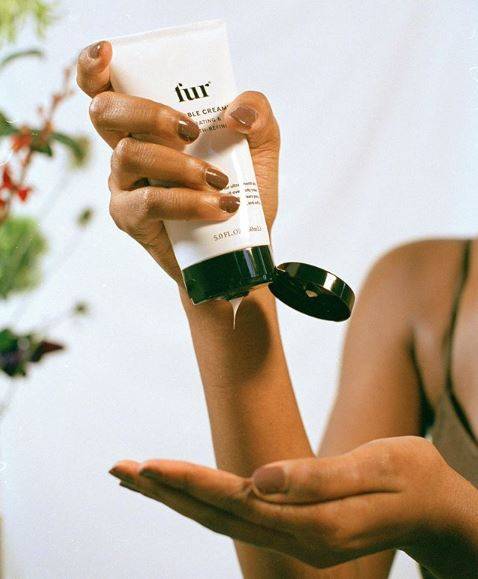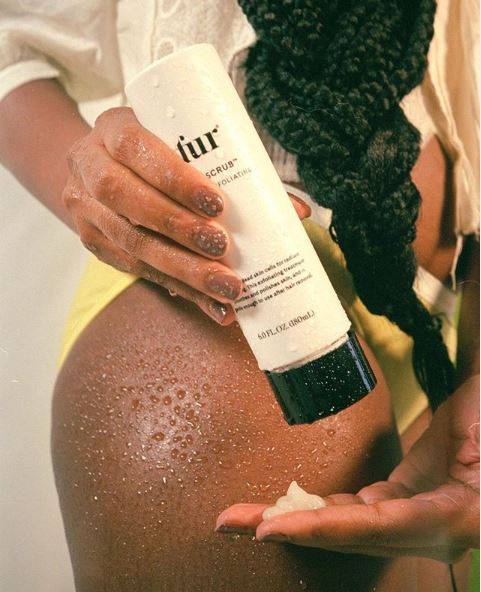 WHAT HAS BEEN YOUR FAVOURITE MOMENT SINCE SETTING UP FUR?
L.T.: There have been many memorable moments. The first was when we moved the fulfillment out of my apartment where Laura and I used to do it all ourselves and into a real warehouse. It meant we were getting too big!
L.S.: Hard to pick - each moment has marked a big milestone! I would be remiss not to mention Emma Watson, who organically mentioned Fur Oil in an interview as being one of her favorite products that she used everywhere. We immediately sold out of a year's worth of inventory in three weeks!
"I use Fur Oil.
I use that anywhere from the ends of my hair
to my eyebrows to my pubic hair.
It's an amazing all-purpose product."
WHERE DO YOU SEE FUR IN THE FUTURE?
L.S.: Hopefully the future involves a lot of Fur in even more places! When we first started, I didn't know if people would think Fur was a joke, but I knew that we stood for inclusivity and that was important. We've always wanted to help anybody with body hair, regardless of how you want to groom yourself. It's been really great to see the body hair conversation swing around to where we feel like Fur has been all along. It's also been validating to see other brands join the body hair category. It makes me proud because it shows that we've been successful at creating the space. You're not a category if you are the only one. We knew step one was having competition, because that means it's a real thing. Of course, that same fact adds to my stress. Now that we've created the category and people have joined us, we have to work hard to stay ahead. Especially now that I have a daughter, I try to think about how the work I do at Fur will benefit her future, and the future of kids who will eventually go through puberty and enter this conversation themselves.
ON A MORE LIGHT-HEARTED NOTE, HERE AT ELLEN TERRIE WE BELIEVE THAT SENSUAL PLEASURE PLAY AN ESSENTIAL ROLE IN OUR HEALTH AND WELL-BEING. WHAT ARE YOUR FAVOURITE WAYS TO GET IN TOUCH WITH YOUR SENSUALITY?
L.T.: I think feeling confident on the inside and out helps foster sensuality. For this it means everything from eating well to taking a soothing bath.
L.S: As a working mom, taking a moment for myself is hard because I feel pulled in so many different directions. But I find that when I do, whether that's applying lipstick, or taking a bath, or even reading a book, it's energizing to reconnect with myself.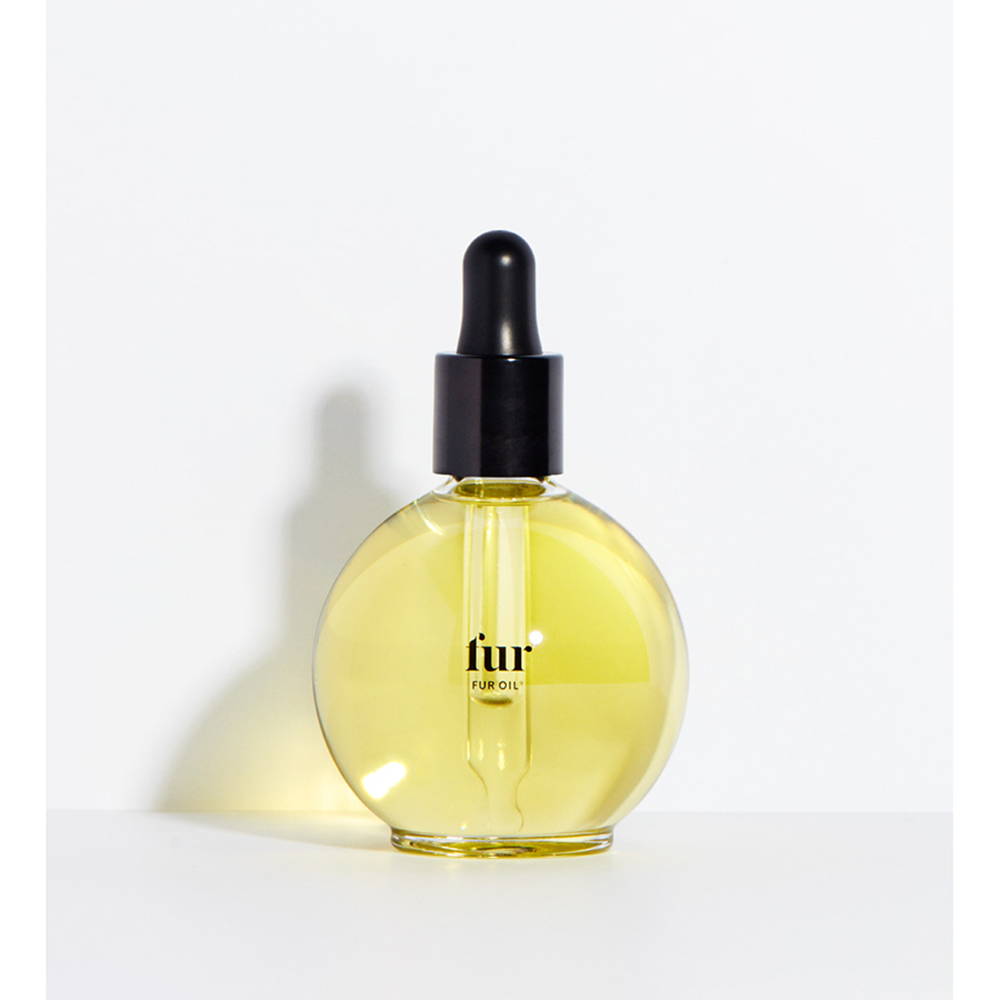 Shop all Fur products on our website here