Meet The Designer: Sarah-Louise Henry Of Mina Lingerie
Offering beautiful, minimal pieces merging under- and outerwear in an innovative, easy-to-wear style, Mina Lingerie launched their debut collection just last year in the Spring of 2019.
Celebrating all that's best about British design and manufacturing, Mina Lingerie's designs have already started turning heads, and the catalyst for the launch of the luxury brand was an out-of-the-blue redundancy announcement! When Sarah-Louise Henry was offered voluntary redundancy from her Bath-based design job she didn't have to think twice - it was the opportunity she'd been waiting for. Ever since graduating in Lingerie Design from the London College of Fashion in 2012, she'd been working towards a long-held dream to launch a top-end lingerie collection.
With that, we feel truly honoured to have had the opportunity to have a chat with our friend and Mina Lingerie founder, the lovely Sarah-Louise Henry, to find out more about the story and inspiration behind her new and emerging lingerie brand.
In 3 words, can you sum up Mina Lingerie for those that are new to your brand?
Versatile, elegant, lavish.
How did Mina Lingerie begin? Did you always know that you wanted to become a lingerie designer?
I had studied at the London College of Fashion doing an Art Foundation when the Contour Design Course came up and I knew it was for me! We were the first year of the course in London, otherwise it had only been running at De'Montfort in Leicester - it was definitely a privilege to be on such a prestigious course. It wasn't until a few years after I graduated that I started to plan things out and source as MUCH as I could; suppliers, production and the rest. I then came up with three key looks and it all went from there.
How did you go about choosing the name Mina for your brand?
It's from a not so commercial love story between two. It's from a very sad, very old novel and film - take from that what you will! I happened to be watching it at the time and Mina just stuck from there as I knew I wanted a 'name' as such.
When designing, where do you look for inspiration?
I love texture, layering and playing with fabrics on the mannequin to get a feel for shape - I think that is always a starting point for me. I also love looking anywhere from nature to runway designers for inspiration.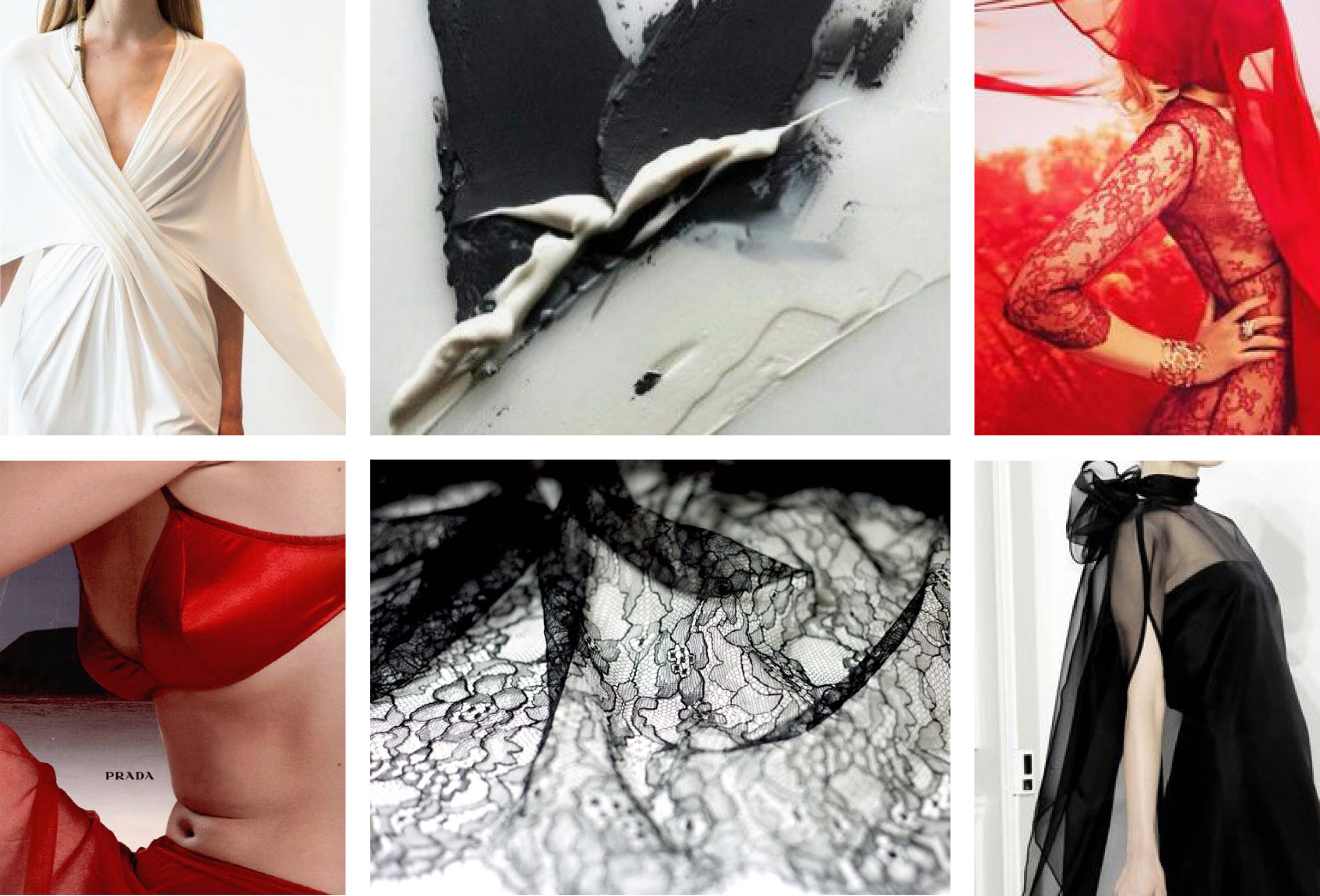 One of Sarah's inspiration mood board's for Mina Lingerie's debut collection ©Mina Lingerie
Your designs all have women's names - are there women in your life that you name them after?
As a brand designed by women and made for women, I thought women's names would suit, so I thought of names that suited the pieces themselves. I would also like to create a collection that has exclusively been developed by women throughout the whole process! I think that would be a really interesting feature, and to learn more about the people behind it. But that's yet to come.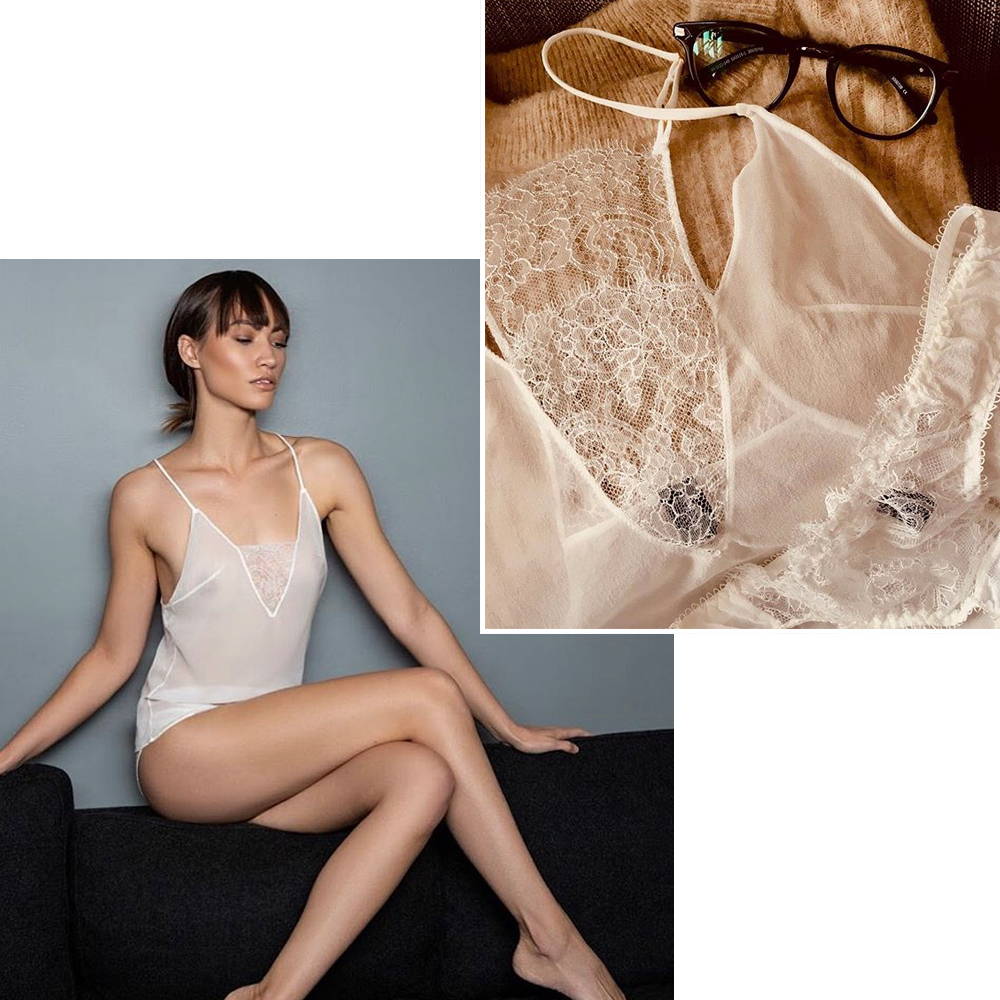 The Yasmin Sheer Cami and Brazilian Brief.
©Mina Lingerie
How do you want women to feel when wearing a piece from Mina?
Confident! Buying products like this, whether it's lingerie or skin care, is a real treat, especially when you're buying something that is a little bit more special. To be able to feel comfortable in them is important. Our pieces are experimental too - we want to encourage women to wear their Mina lingerie showing as outer wear, and this is something we are going to continue to work on throughout the collections.
What has been your favourite moment since setting up Mina?
Getting to the point where everything was coming together! This has been a long journey and getting the opportunity to work on the website and making it live was such a great feeling, along with receiving first orders and lovely comments from our customers too.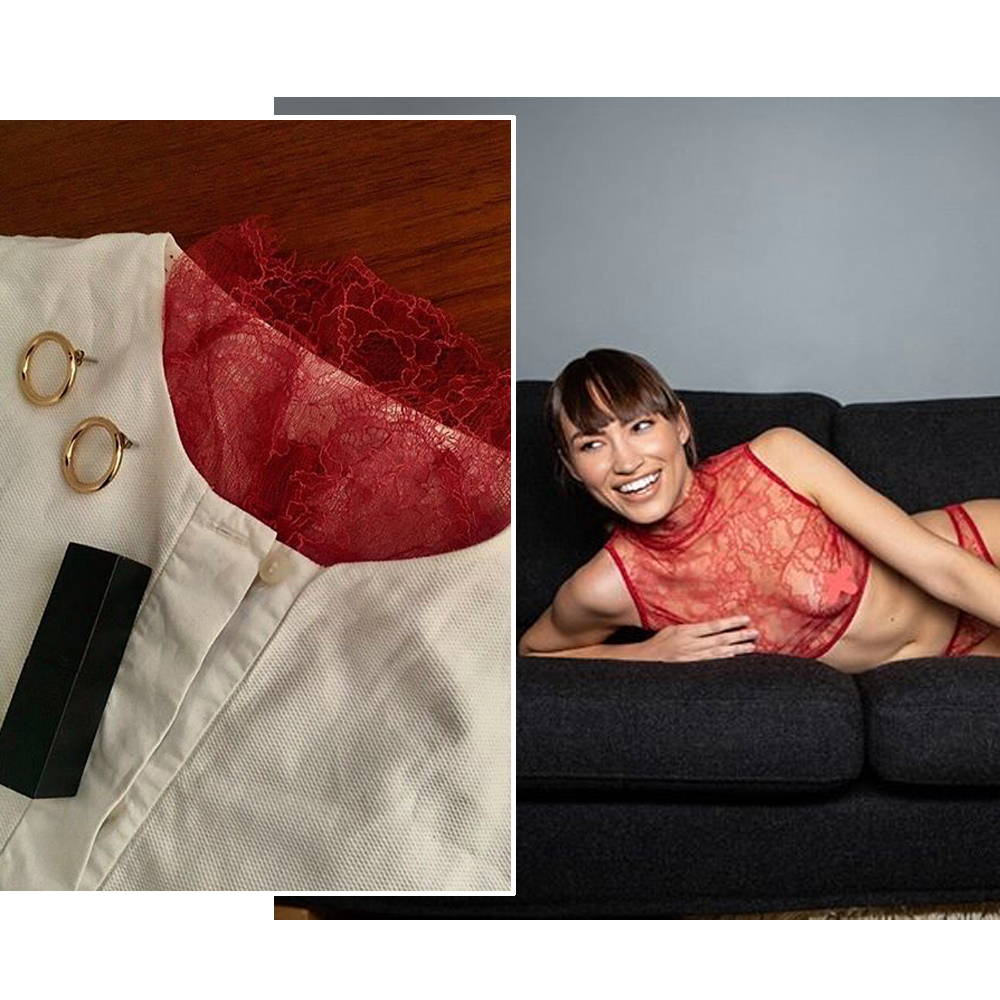 The Alexis Crop Bra and Brazilian Brief.
©Mina Lingerie
Where do you see Mina in the future?
I would love to grow the collections and offer some basics too! Also, to be stocked by wholesalers via web and in store - Ellen Terrie has been our first wholesale stockist and I couldn't be happier!
On a more light-hearted note, here at Ellen Terrie we believe that sensual pleasure plays an essential role in our health and wellbeing. What are you favourite ways to get in touch with your sensuality?
Being surrounded by the fresh air outdoors and coming home to a glass of wine! Also, allowing time for myself - a bath, face mask, essential oils, reading a book - taking time out to listen to yourself is 100% key!
The Ada Soft Cup Bra and High-Waist Brief.
©Mina Lingerie
Mina Lingerie's debut collection consists of three key sets, all with a view of being versatile enough to wear as outerwear.
Ellen Terrie currently stock the Ada collection. Shop the Ada collection on our website here