Breasts. Boobs. Titties. Whatever you like to call them, I think you'll agree that boobs are pretty amazing. But with amazing boobs comes responsibility, which means you need to CHECK YOUR BOOBS on the regular!

If you didn't know, October is Breast Cancer Awareness Month, and we can't stress enough the importance of getting to know your boobs (and the rest of your body too) - it really could save your life. Checking your boobs every month is your number one boob priority! In the UK, 1 in 8 women are affected by breast cancer, and it's still the most commonly diagnosed cancer in women under 40 (1). In the UK, women will only be invited to routine breast screening from the age of 47-50 years old, which takes place every 3 years. So for that reason, getting to know your body, how it works and feels, and how to care for it, is especially important. And our favourite way to do this is a weekly massage. And not just any massage, we're talking about a breast massage. We know, boobs aren't usually invited to the self-care party, but there's definitely an argument to be made for crowning the girls guests of honour during your next self-care Sunday!

To find out more about the why's and how's of breast massage, and the beauty of integrating it into your self-care routine, we had a chat with Zoe Lindt van't Hof, founder of Essentials by Zoe LVH - a woman-owned social enterprise honouring and empowering self care, while encouraging women to bring their attention back to their bodies. The product where it all started for Zoe was Boobs'essential, is a soothing botanical skin oil elixir created from high vibrational and nurturing plants to magnify your breast health and self-care.

It all started from my personal journey with my late mother in 2015...
A few months before she passed away from breast cancer, we began making beautiful oils formulated with the essential oils that she still had from her business as a holistic naturopath and beauty therapist. She wanted to massage her breasts every evening as part of her self-love ritual, to de-stress, and stimulate the flow of the lymphatic system. At that point I realised, being in my mid-twenties, I had never checked or massaged my own breasts. So, we started to bottle more oils, for my own breast massage, and as gifts for our friends. There was no other brand on the market offering this, so this is where the idea really flourished into a small social enterprise.
I want to raise awareness for better breast health and female empowerment

As a social enterprise we give back to Amma, a Sri Lankan initiative that employs mothers to create beautiful handwoven fabrics and dye them with natural plant dyes. We pack our oils and balms into their handmade pouches. We also support Hello Beautiful, a holistic breast cancer charity in London, and CARE International's women empowerment projects.
My mother knew a lot about different essential oils and skin care, and the oils we ended up using for Boobs'essential stood out to us for their association to breast health and general skin nourishment
Our skin is our body's biggest organ. Essential oils can work right into the deepest layers of the skin. Once they enter the body through the epidermis they can travel through the bloodstream to other organs and are also taken up by the lymphatic system, which removes dead cells from the body. It is so important that one avoids any kind of harsh chemical compounds in your body creams and make-up for this reason too, but you can be pro-active in nourishing your body by massaging your body with essential oils or organic and natural origin.
Frankincense and Myrrh were the first gums to be used as incense. Frankincense especially, was one of the most highly prized substances of the ancient world with its rich and woody aroma. The powerful aroma and its ability to deepen one's breathing make it a helpful aid in meditation and coming to oneself. Furthermore, there are interesting studies that support Frankincense's role in inhibiting breast cancer growth (2). We don't make such claims, but we do want to highlight the preventative approach with everything we do.
Sandalwood has been used since ancient times in India and Egypt as a perfume and for religious ceremonies. The scent is woody, sweet with an oriental undertone. It is also renowned as an aphrodisiac. Research has shown that its aroma also helps with sadness, melancholy, anxiety, nervous tension, and insomnia. All of the things we can sometimes suffer from.
Myrrh was one of the most widely used essential oils in ancient times for incense, perfumes and medicine. Nowadays, Myrrh is celebrated for its ability to help preserve a youthful complexion by strengthening and rejuvenating the skin.
Massage is a wonderful, stress-relieving, detoxifying practice for the whole body
Breast massage can have several health benefits, such as stimulating both blood flow and the lymphatic system. We have a lot of lymph nodes around our breasts and in our armpits, they are part of the lymphatic system that runs throughout the body. The lymphatic system is a network of vessels that collect and filter excess fluid waste around the body, and when this is stagnant there can be a build-up of waste. A gentle breast massage can encourage circulation and stimulate the blood flow. Besides that, massage can also release the feel-good hormone oxytocin!
I personally like to integrate my breast check as part of my Sunday self-care routine
I usually dry brush my breasts and the rest of my body with a gentle body brush. I then have a hot & cold shower. After the shower, whilst my skin is still moist, I add a couple of drops of Boobs'essential oil to my hands, rub my hands to activate the aroma and inhale deeply, then massage my breasts in a circular motion covering my entire breasts to become familiar with how they feel, to activate my lymphatic system and to be able to notice any changes.
There is no wrong way to do it
Of course, being gentle is key, but we suggest covering the whole chest area all the way to the armpits, with the intention of moving fluid toward your armpit.Follow a pattern and be sure that you cover your whole breasts. For example, you can begin at the nipple, moving in larger and larger circles until you reach the outer edge. Whilst doing so, make sure to breathe deeply and inhale the soothing warm and woody scent of the oil.
We believe prevention is better than cure
When we see any changes or feel a lump, there is no reason to panic and just a nudge to go and see a health professional. However, so many women (and men!) do not check their breasts regularly and therefore do not notice any changes over time. We believe that by getting to know our breasts better, we are creating better self and breast awareness. For those of us who menstruate, you will often see monthly changes, but besides that anything that is abnormal should be checked by a health professional.
So, what are you waiting for?! Go and give breast massage a try and you may be left wondering why you ever left your breast friends out of your self-care routine.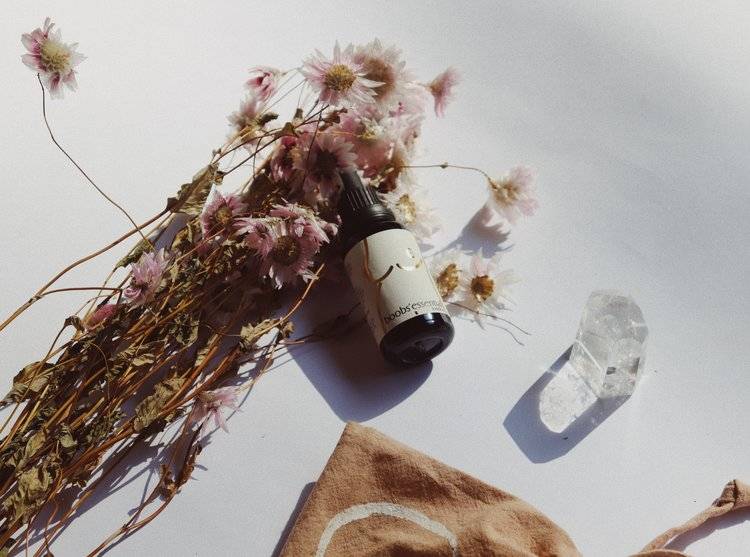 Shop Boobs'essential breast care oil here
References:
1. Statistics from Breast Cancer Care
2. https://pubmed.ncbi.nlm.nih.gov/22171782/